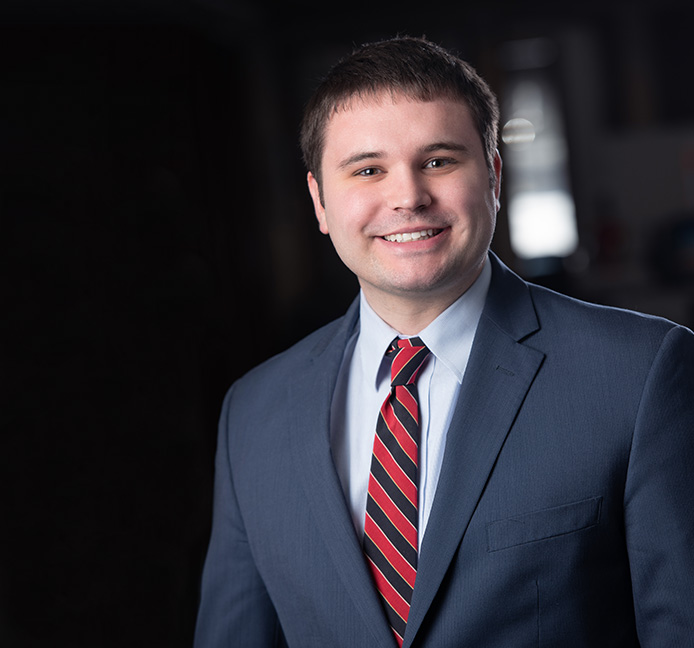 Kyle A. O'Meara
Associate Attorney
komeara@fsbrlaw.com
|
517.381.0100
Practice Areas:
Water Resources, Municipal
Overview & Experience
Kyle assists FSBR's growing Municipal Practice Group, concentrating on the representation of townships, cities, counties, libraries, and special authorities served by the firm and provides support for the Drain Practice Group.
Fact-finding, problem-solving, and brainstorming are among Kyle's favorite parts of his work, and he enjoys crafting multiple ways to help clients tackle their challenges. He's able to simplify complex problems so all parties can understand the work at hand, making it easier to devise practical solutions.
Kyle's work focuses on public entities in need of advice on a wide variety of legal topics from the Freedom of Information Act to drafting purchasing policies. He actively listens, asking questions to determine how FSBR can solve their legal problems and identifying other issues and concerns clients may need to address.
Kyle joined FSBR in 2018 after spending the previous summer as a summer associate with the firm. During law school at the University of Notre Dame, he externed for the City of South Bend's legal department and the Hon. Judge Jack Zouhary, U.S. District Court Judge of the Northern District of Ohio. He helped revise ordinances, review contracts, and aided in code enforcement and foreclosure matters.
In his free time, Kyle enjoys traveling and watching Michigan football and the Green Bay Packers. He's a self-proclaimed terrible fisherman, though he enjoys it immensely.
EXPERIENCE
Helped establish inland lake levels and corresponding special assessment districts for lakes throughout Michigan, including an inland lake in both Michigan and Indiana.
Assisted multiple municipalities with the special land use and site plan process to site wind energy developments including a development with an aircraft detection lighting system (ADLS).
Aided various lake improvement boards and townships with special assessment lake improvement projects.
Responded to 2016 ballot "Emily" FOIA request for multiple municipalities.
Prepared successful defenses for individuals with professional licenses in the Michigan Office of Administrative Hearings and Rules.
Publications & Presentations
Kyle has presented to and created zoning trainings for municipalities. He co-authored an article in the Michigan Bar Association Government Law Section Publication "Briefly," addressing how municipal websites can comply with the Americans with Disabilities Act.
Honors & Education
EDUCATION
Notre Dame Law School, J.D., 2018, dean's honor roll recipient
University of Michigan, B.A., Public Policy, 2015, university honors recipient
BAR ADMISSIONS
HONORS
Daniel Rosenthal Legislative Intern Award, 2015
Professional Activities
COMMUNITY SERVICE
Member, Haslett Okemos Rotary Club, including Hero Luncheon and Golf Outing, present