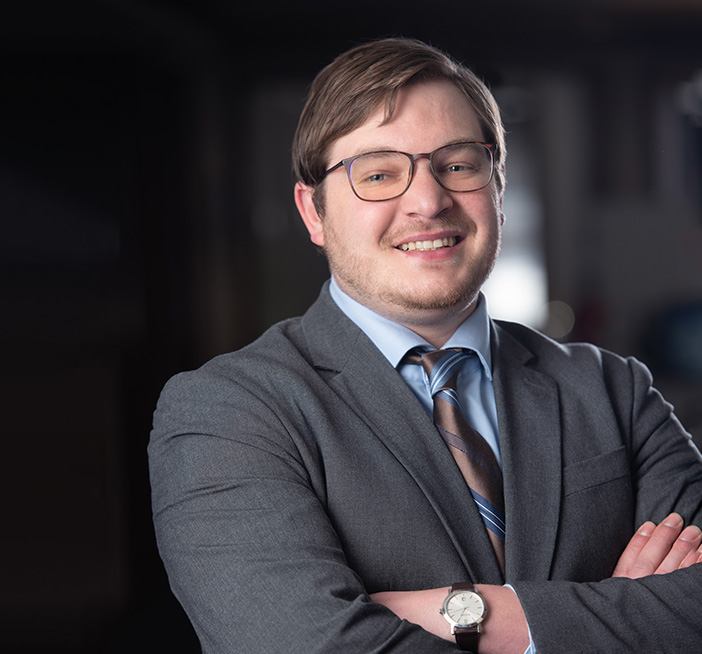 Jacob Witte
Associate Attorney
jwitte@fsbrlaw.com
|
517.381.0100
Practice Areas:
Municipal
Overview & Experience
Jake practices in the firm's growing Municipal Practice Group, representing townships, cities, counties, libraries, and special authorities.
The trial work he does is quick and requires him to be nimble and prepared, and he enjoys that challenge. He also is drawn to unusual research projects for municipal clients, examining questions that haven't been asked previously. The thrill of the chase down the rabbit hole is something he welcomes.
Jake's work focuses on code enforcement and prosecuting civil infractions for ordinance violations. He assists in drafting new ordinances, sign regulation, and small cell licensing, and he researches novel areas of the law including amending zoning and nonzoning ordinances.
He prides himself on being a diligent worker who brings a level-headed, approachable demeanor to the table. He has high standards for the work he does, and he enjoys building personal connections with his clients.
Jake joined FSBR as an associate attorney in 2018 and was a clerk just prior to that. He was previously an intern for the Hon. John T. Gregg in the United States Bankruptcy Court for the Western District of Michigan, and an intern for the Hon. Rosemarie E. Aquilina in the 30th Circuit Court.
Outside of the office, Jake and his wife like to hike and camp in the U.P. and spend time at their family place in Harrison.
EXPERIENCE
Drafted comprehensive regulations for small cell wireless facilities for the City of Fenton and the City of Niles in response to recent legislation and was a largely unexplored area of the law when I put these materials together.
Successfully prosecuted ordinance violations in Lake Township, Roscommon County, Michigan.
Completely overhauled several zoning ordinances for townships across the state. This is a massive undertaking as zoning ordinances are typically well over a hundred pages long with extensive cross-references; they also tend to vary immensely between municipalities, requiring each to be tailored to the individual needs of the client.
Worked on various constitutional issues for municipalities involving first and second amendment rights, particularly in the regulation of shooting ranges and signs.
Publications & Presentations
Jake has presented on topics including township law, employment law, and constitutional law at seminars and conferences throughout the state and has authored articles on township law and constitutional law.
While clerking for Judge Gregg, he authored an article on the discharge of nonfraudulent debt, arising from a breach of fiduciary duty, published in the Fall 2017 edition of the Federal Bar Association Bankruptcy Section Newsletter.
Honors & Education
EDUCATION
Western Michigan University Cooley Law School, J.D., 2017, magna cum laude
Grand Valley State University, B.A., Communication Studies, 2014
BAR ADMISSIONS
Michigan
U.S. District Court, Eastern District of Michigan
Professional Activities
Articles editor, WMU Cooley Law Review, 2016-2017
Student Chairperson, Grade Appeals Board, WMU Cooley Law, 2016-2017