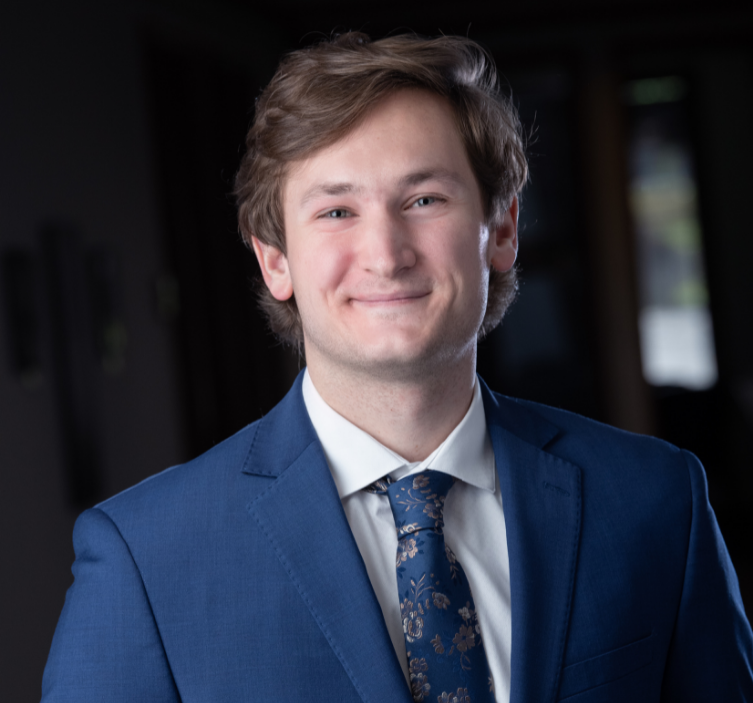 James Budreau
Associate Attorney
jbudreau@fsbrlaw.com
|
517.898.4307
Practice Areas:
Franchise, Corporate & Business, Litigation, Trademark, Municipal
Overview & Experience
James ("Jimmy") contributes his knowledge of law to the firm's Franchise, Corporate & Business, Trademark, Municipal, and Litigation practice groups. Jimmy focuses on serving franchise clients by drafting franchise agreements/documents and conducting extensive research to help ensure that those documents comply with applicable franchise laws. He also performs research and analysis to protect client brands when trademark and/or copyright infringement occurs.
Jimmy assists the firm in providing legal research and advice to municipal clients on issues relating to constitutional law interpretation, Freedom of Information Act, Open Meetings Act, COVID-19, and Zoning Board of Appeals decisions. He aspires to gain additional expertise to advise municipal clients in election law matters. Jimmy also has conducted research and written segments for several of the firm's monthly Township Law E-Letters and Webinars.
Jimmy joined FSBR in 2020 as a summer associate/law clerk and became an Associate in November 2021. While attending law school, he worked for Fleming Yatooma and Borowicz, PLC in Bloomfield Hills, Michigan as a summer associate.
Jimmy has provided legal assistance to a non-profit corporation assisting children and low-income families and performed research and drafted proposed legislation for child welfare reform in the State of Michigan. He also has delivered meals to families in need, assisted and coordinated events for the elderly at a senior living facility, and walked and cared for dogs at an animal shelter while in college.
Outside of work, Jimmy enjoys playing most sports and watching all Detroit sports, listening to music and attending concerts, collecting vinyl records and sneakers/streetwear, and traveling. He hopes to produce his own music someday.
Experience
Franchise agreement/document review and drafting
Litigation document drafting, including general pleadings, dispositive motions, and supporting briefs
Trademark/copyright infringement protection
Legal research on general municipal matters
Affidavit drafting for historical easements
Discovery review/analysis for litigation and arbitration matters
Freedom of Information Act
Publications & Presentations
Contributing author to the ABA Franchise Law Journal
Honors & Education
EDUCATION
Michigan State University College of Law, J.D., 2021
Trine University Ketner School of Business, B.S., Sport Management, summa cum laude
After completing 12 more credits, will hold a Master of Science in Business Administration (MBA) from Trine University in Angola, Indiana
BAR ADMISSIONS
HONORS
2021 Michigan State University Ralph Freeman Scholarship Award Recipient
Book Award (Jurisprudence Award – JP) for Sports Law
ABA Alternative Dispute Resolution Competition Team Member
Student Bar Association – Wellness (Mental Health) Committee Chair
Trine University Gold Key Recipient
ACBSP Student Leadership Award – only one winner in the Ketner School of Business
Ehinger Fellow – Student Ambassador for the Ketner School of Business
Collegiate/Scholar Athlete for two years playing college basketball
President of Delta Mu Delta – International Business Honor Society
Professional Activities
Worked closely with general counsel for a non-profit corporation assisting children and low-income families
Researched and drafted proposed legislation for child welfare reform in the State of Michigan
Delivered meals to families in need for Steuben County Mobile Meals in Indiana for a year while in college