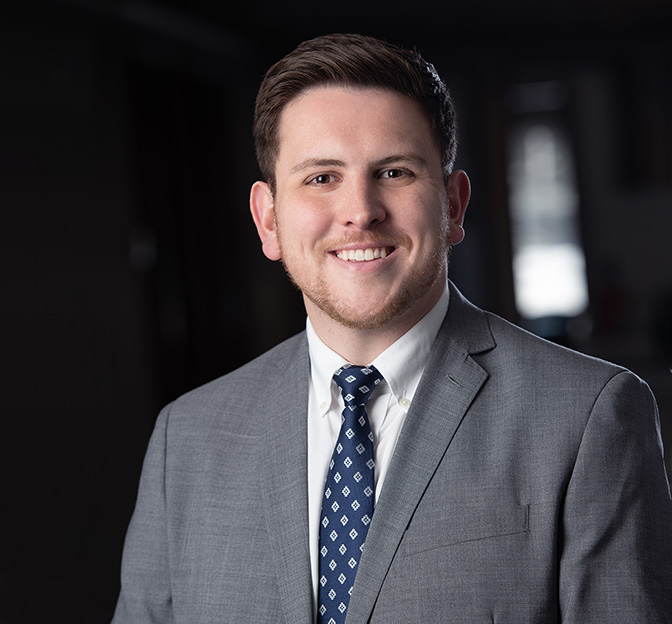 Jacob P. Fox
Associate Attorney
jfox@fsbrlaw.com
|
517.381.0100
Practice Areas:
Labor & Employment, Municipal
Overview & Experience
Jake contributes to the firm's growing Municipal Law and Labor and Employment Law practice groups. He values and strives for pragmatic solutions for employers that limit liability exposure and encourage a harmonious work environment. He is committed to advising clients on the right thing to do and keeping them informed on case status and the potential outcomes from decisions.
His municipal work involves local government transitions where he helps guide newly-elected township officials in understanding and complying with state financial practice requirements. Jake advises Downtown Development Authorities on various tax issues that must be dealt with to ensure development project success. He also assists municipalities with contract interpretation, restricted covenants, land use restrictions, zoning ordinance compliance, and municipal tax issues.
Jake's labor and employment law work focuses on preserving management rights under collective bargaining agreements. He helps both public and private sector employers try to avoid potential conflicts with employees and ensure compliance with FLSA requirements through comprehensive review and modification recommendations of employee handbooks. He also performs arbitration research and preparation of post-arbitration briefs.
Jake joined FSBR in June 2019 as a law clerk and became an associate attorney in November 2019. Prior to that, he worked as a law clerk for the Michigan Education Association Legal Services Department while in law school. Jake is a detail-oriented individual who never loses sight of the big picture. He is precise in drafting legal documents and meticulous in his client communications, always keeping the client informed on strategy and plausible outcomes.
Outside of work, Jake enjoys camping, hiking, and traveling with his wife, watching college and pro football, World War I history, and spending time with his two Newfoundlands.
EXPERIENCE
Completed regulatory work for meeting state requirements for a power plant construction project
Drafted post-hearing briefs for both corporate clients and municipal employers
Advised township on administrative requirements for proper tax reporting of employee disability income
Publications & Presentations
Jake works with practitioners throughout the state to help keep the legal community informed of developments in government law by coordinating the bi-monthly publication, "Briefly."
Honors & Education
EDUCATION
Michigan State University School of Law, J.D., 2019, magna cum laude
Alma College, B.A., History and Political Science, 2016, summa cum laude
BAR ADMISSIONS
HONORS
J.J. Smith Award for Outstanding Graduate in History, Alma College
Ronald Kapp Award for Outstanding Undergraduate Senior Thesis, "Franklin Roosevelt's Attempt to Expand the Supreme Court," Alma College
Professional Activities
Editor, "Briefly," a bi-monthly E-Letter publication of the Michigan Bar Association Government Law Section, December 2019 – present
Managing Editor, Law Review, MSU College of Law, 2018 – 2019
Member, Law Review, MSU College of Law, 2017 – 2019